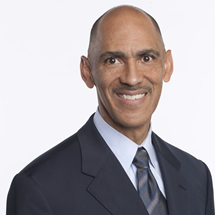 Tony Dungy
One of the most-noted Christians in the sports world, Tony Dungy has long been committed to using his platform as an athlete, coach and sports commentator to support and promote the ministry of FCA. He has been a popular speaker at FCA conferences, banquets, clinics, and camps.
At Jackson Parkside (MI) High School, Dungy starred on both sides of the ball and earned a scholarship to play quarterback at the University of Minnesota. In 1976, Dungy was signed as an undrafted free agent. He spent two seasons with the Pittsburgh Steelers where he played safety and led the Super Bowl XIII championship team in interceptions. Dungy was also actively involved in the team's chapel services and Bible studies.
Dungy played one season with the San Francisco 49ers before joining the coaching ranks at his college alma mater. One year later, he returned to Pittsburgh and became the youngest NFL coach at the age of 25. In 1984, Dungy made history again when he became the youngest coordinator in NFL history at the age of 28.
After coaching stints with the Kansas City Chiefs and the Minnesota Vikings, where he coordinated the NFL's top-ranked defense, Dungy was named head coach of the Tampa Bay Buccaneers where he led the resurgent franchise to four playoff appearances between 1996 and 2001.
In 2002, Dungy took over as head coach of the Indianapolis Colts where he led the team to seven consecutive playoff appearances and a franchise best 85 wins. At Super Bowl XLI, he and Chicago Bears head coach Lovie Smith became the first two African American head coaches to reach the Super Bowl. With the Colts victory, Dungy became first African American head coach to win the Super Bowl and the third man to win Super Bowls as both a player and a coach.
Away from football, Dungy has consistently used his platform to assist the efforts of numerous humanitarian, community and evangelical organizations, including the Fellowship of Christian Athletes, Athletes in Action, Big Brothers/Big Sisters, Boys and Girls Club of America, the Prison Crusade Ministry, and Family First, for whom he has served as the national spokesman of it's fatherhood initiative, All-Pro Dad.
In 2007, President George W. Bush appointed Dungy a member of the President's Council on Service and Civic Participation. That same year, the United States Sports Academy awarded him the Amos Alonzo Stagg Coaching Award. In 2010, Dungy's name was added to the Indianapolis Colts Ring of Honor. He has served as a studio color analyst for NBC Sports and has authored multiple New York Times Best Sellers including Quiet Strength, Uncommon, and The Mentor Leader.